About Me
Who's the crazy fan who created this site?
---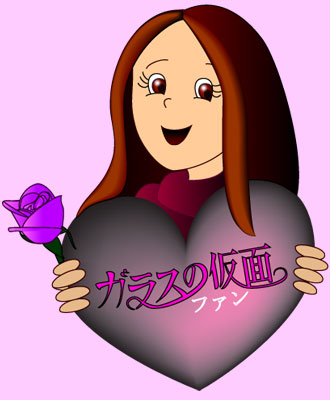 Name:
Francesca
Nicknames:
Happysmile, Dreamsaddict
Zodiac:
Libra, Earth Horse
Location:
Trieste (Italy ♥); London (UK); Edinburgh (UK)
Blood type:
0+
Loves:
Drawing, painting, hiking, making websites, listening to music, writing, reading books and comics, learning new things, the sea, the sun, art, Europe, Japan, postcards, stamps, cultures, myths and legends.
Dreams:
Writing a graphic novel, making websites for a living, learning Japanese, travelling all around the world, Meeting Riyoko Ikeda and Suzue Miuchi :)
Blog:
The Greeting Cards Slave
Online comics:
Comics by Francesca Mancuso
Illustrations portfolio:
Colours and Dreams
DeviantArt:
Dreamsaddict
Twitter:
just_francesca
Random facts:

One of my emails was published in the last page of the 32nd volume of Garasu no Kamen, Italian version (May 2004)


---

My website was mentioned in Japanese magazine AERA, August 28th 2017, in an article for Glass no Kamen's 40th anniversary!


---

I sent one of my illustrations for the exhibition for the 40th Anniversary of Glass no Kamen at Sendai Literature Museum (October 6th 2018 - November 25th 2018) and it was one of the 3 works chosen by Miuchi sensei to receive an autographed postcard!

---