About Me
Who's the crazy fan who created this site?
---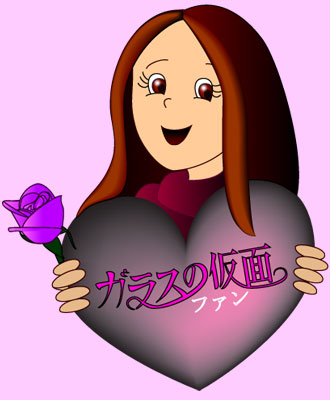 Name:
Francesca
Nicknames:
Happysmile, Dreamsaddict
Zodiac:
Libra
Location:
Europe
Blood type:
0+
Loves:
Drawing, painting, hiking, making websites, writing, reading books and comics, learning new things, watching drama, the sea, the sun, art, Europe, East Asia, languages, postcards, stamps, cultures, myths and legends.
Dreams:
Making comics, building websites for a living, learning Japanese, travelling all around the world, Meeting Riyoko Ikeda and Suzue Miuchi :)
Blog:
The Greeting Cards Slave
Comics:
Comics by Francesca Mancuso
DeviantArt:
Dreamsaddict
Twitter:
just_francesca
Facebook:
Francesca Mancuso Artist
Instagram:
Francesca Mancuso Art
Random facts about Glass no Kamen and me:

May 2004: One of my emails was published in the last page of the 32nd volume of Garasu no Kamen, Italian version.

November 2005: My fan art "Punch" was included in the Parody section of Suzue Miuchi's official website.

May 2009:. It was a very bad year for my health and I was very depressed. Suzue Miuchi sensei sent me words of hope in English via letter. I will never forget that and I will always be grateful.

August 28th 2017: My website was mentioned in Japanese magazine AERA, in an article for Glass no Kamen's 40th anniversary!

Ms Yuko Yanai interviewed me for an article dedicated to Glass no Kamen's 40th anniversary. AERA magazine (August 28th, 2017).
Thanks to wonderful KATE for the translation.

Francesca Mancuso, an Italian woman (38), first saw the anime, and then got addicted to the manga. She runs the website "Maya's Glass Mask". She is known in Japan as an avid fan. She is currently working as a designer in the UK. We interviewed her via email.
"Maya is full of passion and she is working very hard to chase her dreams. That is what resonates with me. And I love Masumi Hayami, who is Murasaki no Bara no Hito. He is a secret admirer who supports Maya's career secretly. It is natural for many women to adore him."

October 2018: The illustration I sent to Sendai Literature Museum for the 40th Anniversary of Glass no Kamen exhibition (October 6th 2018 - November 25th 2018) was one of the 3 works chosen by Miuchi sensei to receive a signed postcard!
---