The Artist
A few info about the genius who made whole generations fall in love...
---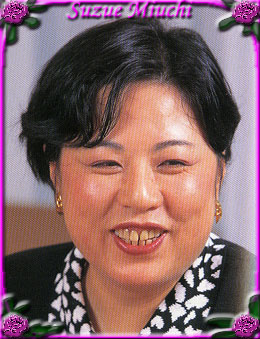 Suzue Miuchi

She was born on February 20th 1951 in Osaka, Japan.
Her blood type is O.
A big fan of manga since her childhood, she used to frequent book rental shops keeping it secret from her parents.
When she was still an elementary student, she even kept a running tab in the book shop!
Her parents were shocked when they saw the bill to pay, and they obliged her not to buy manga any longer.
She started drawing manga by herself when she was still a kid (10 years old!).
She attended the Osaka Seikei Girl's High School.
One day, when she was attending the 1st year of high school, she made a deal with her mother: if she wasn't able to make her debut as a comic artist during her 2nd year of high school, she would give it up. In return, her mother would let her draw comics during that year.
As you know, she succeeded. She made her debut as a mangaka in 1967.
She wrote a lot of manga, the most of which are short horror tales.
Her masterpiece is Garasu no Kamen, started in 1976 and not finished yet :(
She won the Koudansha Manga Prize in 1982 with her short horror story 'Youkihiden' and the Excellent Prize of Japan Mangaka Association in 1995 with Garasu no Kamen.
She created a kind of religion/organization which focuses on spirituality(O-en)
Suzue Miuchi's husband was a photographer. It is said that at the beginning she didn't like him and that Ayumi Himekawa and Peter Hammill were modelled on Suzue Miuchi and her husband.
He owns a French restaurant in Japan.
---
Suzue Miuchi - a self-portrait: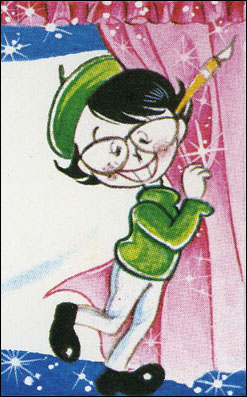 ---
Suzue Miuchi's Official Site (in Japanese): Olive no Happa
Suzue Miuchi's Twitter account.
---
Suzue Miuchi and her assistants (from "Garasu no Kamen"):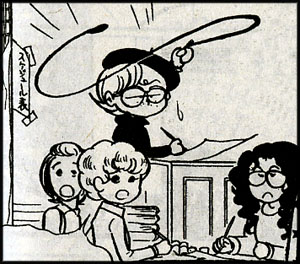 ---
Suzue Miuchi as seen by Shinji Wada:

| | |
| --- | --- |
| | |
---
A beautiful photo of Miuchi sensei from magazine 'Shuukan SPA' February 8th 2005: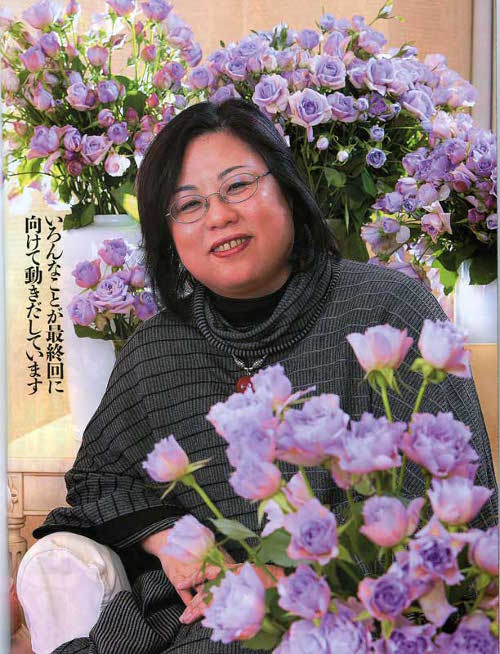 ---
Credits:
A big THANK YOU to KATE, SHION and MASASUMI.
Further info: Suzue Miuchi's Official Site (Japanese).
Feel free to e-mail me to correct some info or tell me more about Suzue Miuchi!
Attention!
I worked very hard to create this website. When other people collaborated I gave them credits. I do not own the copyrights for the original work. Please if you intend to use some content for your website, ask me for permission first and give me credits. In any case, please do not direct link images and do not use anything for commercial purposes. Please, respect other people's work!