Musical
About the 2008 Garasu no Kamen Musical
"Garasu no Kamen" - 2008 Musical
July 15th 2008:
Press conference
August 8th-24th 2008:
in Saitama at
Sai-no-Kuni Saitama Geijutsu Gekijo
(Sai-no-Kuni Saitama Arts Theatre).
August 29th, 30th, 31st 2008:
in Osaka at
Brava Theatre .
September 5th, 6th and 7th 2008:
at
Kitakyushu Arts Theatre .
Crew

| | |
| --- | --- |
| Director: | Yukio Ninagawa |
| Script: | Gou Aoki |
| Composer: | Tamiya Terashima(OVA's music) |
| Music: | Chikako Ikegami |
| Choreographer: | Uran Hirosaki |
| Stage Setting Artist: | Tsukasa Nakagoshi |
| Stage Lighting: | Ikuo Murofishi |
| Dresser: | Noriko Muyamoto |
| Acoustics: | Masahiro Inoue |
| Hairdresser: | Yuuko Satou |
| Assistant Directors: | Sachiko Ishimaru, Takaaki Inoue |
| Stage Supervision: | Eisuke Shiraishi |
| Songs instruction: | Tadamichi Izumi |
More info:
Theatrix
Saitama Art Foundation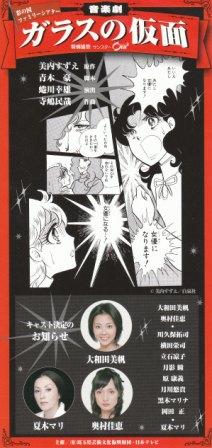 My friend Ayako's opinion on the musical (kindly translated by Nanako)
The target of this musical is children with parents and people not used to go to the theatre. So this piece a was a big challenge for Ninagawa, the stage director. He scattered many surprises through the play: several rainshowers using 2 tons of water, the same set scenes at the beginning and the end as in the original comic, using the auditorium as a part of stage (like in "Forgotten Wilderness"), Kurenai Tennyo flying over the spectators.
The two main actresses, with little experience in stage playing, are supported by a powerful, enegetic companay of 45 young actors and veteran supporting actors. The changes of sets is as swift as in Takarazuka. About three hours is not long for Ninagawa, but the development feels rather rushing.
The script, packed with up to the chapter "Spring Tempest," deserves admiration, much owing to cooperation with Suzue Miuchi.
However it is doubtful whether the audience who didn't read the comic could enjoy it as it is intended. If you did, and you don't usually go to the theatre, you'll probably be happy with this play.
The casting of Hitomi Tsukikage as Utako in the musical part is a big success, but the main cast have problem with singing. (Asahi Shinbun, one of the national daily papers, also pointed this out in its review.)
I was hoping to see Maya Kitajima of "Glass Mask" but it was Miho Ohwada that I found on the stage. The acting of the two heroines leaves much to be desired. So does that of "Masumi Hayami". Hayami has a lot of entuhsuastic fans at home and abroad, and I heartily feel that playing this part is a tough challenge.
In general, scattered surprises, the power of ensamble, and up-tempo flow of the story will enchant the audience, but if you love plays and go to the theatre often, I'd recommend you not to expect too much.
Image Gallery
Credits:
Many very special thanks to AYAKO, KATE, MASASUMI, ECCHAN, NANAKO and GO.
Attention!
Please if you wish to use part of the content of this page, let me know. You can use text and images for personal use only, not for commercial purposes. If you put some of these images in your website, it would be so kind of you if you gave me credits :) In any case, please DO NOT direct link. Save images to your hard disk and upload them to your server. I don't have the copyrights but I worked very, very hard to create this page. Please respect my work!