Suzue Miuchi - Other Works
---
Kurisumasu no Kiseki (The Christmas Miracle)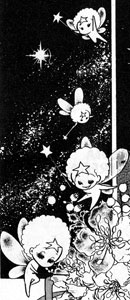 4 very short stories about Christmas miracles.

1. Piron the white knight
Eri is an unfortunate girl who is going to die very young. Her last wish is to meet Piron, the hero of her favourite book, a white knight who is looking for true love. Eri's mother and sister hire an actor for the Christmas Eve, to perform Piron. He visits the little girl, who dies happy, in the knight's arms. Suddendly the telephone rings; the actor apologizes for not being able to come: ha has just had a car accident... Then, who was the man who made Eri so happy?

2. The bell which strikes the time
It's Christmas. Tim goes to school for the headmaster's speech. At noon, the students usually go home. It's 12:05 and the clock tower hasn't struck yet! This is the first time this has happened in 20 years! Suddendly, there is a big explosion in the school courtyard. If the clock bell had worked, many students would have died!

3. The red-nosed reindeer
Emiko is a shy girl. Her nose often gets red, and she is ashamed of it and always hides herself. She accepts to go to a Christmas party only to see her school mate Matsuzaki, whom she likes... Everyone has to bring a present at that party, and then couples are chosen by lot to exchange their presents. If someone forgot the present, s/he has to kiss the other person. Lucky Emiko! Her partner will be Matsuzaki! And he forgot his present, so he kisses Emiko on her face, in spite of envious girls' comments. Emiko is happy and embarrassed, and she runs away in tears. Later, she notices that her nose is not red any longer! Matsuzaki is running after her. He left his coat at the party, and the other school mates find out that actually there is a present in his pocket...

4. Here comes Santa Claus
It's Christmas Eve. The young Toshi visits his fellow tenant Akira, who is unwrapping presents with his own friends. He doesn't care about Toshi, who spends some time on the balcony looking for Santa Claus. When Toshi's mother comes to take him back home, he tells her that he met Santa Claus! Actually he had no reindeers but a silver flying saucer, and he said he was from Andromeda...
---
back to SUZUE MIUCHI - OTHER WORKS
---
Attention!
I worked very hard to create this website. When other people collaborated I gave them credits. I do not own the copyrights for the original work. Please if you intend to use some content for your website, ask me for permission first and give me credits. In any case, please do not direct link images and do not use anything for commercial purposes. Please, respect other people's work!