Suzue Miuchi - Other Works
---
Ningyo no Haka (A Doll's Grave)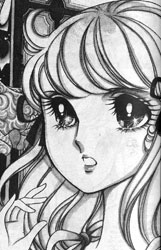 Annabelle is so happy! She can leave the orphanage to join a family! Mr. Joel picked her up and drove her to her sister's home. Rose Lee is an unhappy woman. She lost her husband 13 years ago, and her beloved little daughter, on a wheelchair since the age of 5, died 3 years ago. Rose Lee dedicated all her love and time to Sarah, her unfortunate daughter, whose only friend was a doll. Sarah wanted the doll to be considered as a human being: they always had lunch together! Before dying, the girl asked her mother to call the doll Sarah and to treat her like her own daughter. Then, since Sara's death, Rose Lee has been living this way, talking to the doll and singing songs to her, trying to feed her and so on.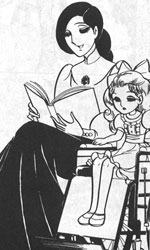 The desperate woman doesn't welcome Annabelle; it was her brother's idea to introduce that little girl to her house! At the beginning, Annabelle thinks that Sarah is alive, and she wants to run away, but when Joel explains everything to her, she accepts to help Rose Lee to be happy again. And indeed, day by day the woman loves the happy affectionate girl more and more. Anyway, the doll is observing... Some accidents happen, and what a coincidence, the doll is always there. It seems that she doesn't welcome Annabelle! Nobody believes a doll could do anything, not even Annabelle at the beginning... Anyway, the dolls first almost manages to make Annabelle drink some poison, then she tries to make Rose Lee believe that the girl wanted to steal a jewel from her, later hurts the girl so that she cannot go with Joel and Rose Lee to a wedding ceremony, and finally when she is alone at home with the girl she tries to kill her by pushing her down a balcony with a broken handrail.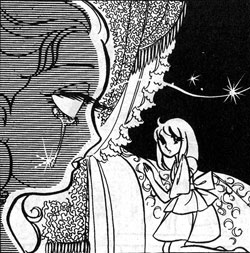 But thanks to the bad weather, Rose Lee couldn't go to the wedding ceremony and she gets back in time to save the girl! Because of the stress of this accident, the woman has a heart attack.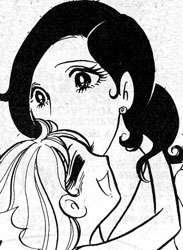 At the hospital, Annabelle repirmands the doll. She reminds the doll that she cannot make that woman happy, and that it's her fault if she had a heart attack, and that it's her, Annabelle, who is taking care of her even in that moment! The woman recovers soon, and she tells Annabelle how much she loves her! She wants to be a good mother to her! The doll seems to have some tears on her cheeks... It must have been the rain pouring in through the window... 3 days later, the doll mysteriously falls down the balcony. The wheelchair is broken and the doll too. The doll is lowered in a grave next to Sarah's grave. Both Annabelle and Rose Lee feel sorry, as if a real girl has just died, and Annabelle assures her mother that that girl also loved her very much...
---
back to SUZUE MIUCHI - OTHER WORKS
---
Attention!
I worked very hard to create this website. When other people collaborated I gave them credits. I do not own the copyrights for the original work. Please if you intend to use some content for your website, ask me for permission first and give me credits. In any case, please do not direct link images and do not use anything for commercial purposes. Please, respect other people's work!